Media urged to live by the legacies of former US Ambassador to Ghana
H.E. Peter Jackson, US Ambassador to Ghana
The managing editor of Humanity Magazine International, Mr. Yahaya Alhassan, has said that the legacies of immediate past US Ambassador to Ghana, HE Peter Jackson, on the fight against human trafficking is worthy of emulation.
He said that Ambassador Jackson displayed a deep sense of concern for the wellbeing of girls and young women, who were mostly trafficked from the northern parts of Ghana to the south or from Ghana to the Middle East and Europe.
These young women, who are mostly deceived into believing that greener pastures await them at their final destinations, rather end up becoming victims of abuse that leads to physical and mental harm.
On several national platforms, Ambassador Jackson had raised the issue of human trafficking and he is noted for calling on the media to dedicate radio and newspaper spaces to discuss human trafficking instead of political issues.
Mr. Alhassan believed that the former US envoy deserves commendations for championing the cause of vulnerable young women and bringing issues that concern them to the front burner of national discussions.
"We are calling on high ranking citizens of this country and other heads of diplomatic missions to equally use their loud voices to speak for the voiceless and vulnerable in our societies" he said. He also called on state institutions to play a critical role to completely nib human trafficking in the bud.
He reechoed the call by Ambassador Jackson on the media to refocus their attention on human trafficking "which also includes the maltreatment of house maids, which is one of the worst consequences of human trafficking".
Mr. Alhassan added that "I would like to also remind the media about the admonition given to them by Ambassador Jackson that they should dedicate ample time to discuss societal ills such as the inhumane trafficking of girls from one part of the country to the other to engage in backbreaking and yet low-paying jobs.
He revealed that a survey by Humanity Magazine International indicates that most cases of child trafficking are not prosecuted and the culprits walk free.
However, on a positive note, he disclosed that a recent collaboration between Humanity Magazine International and the Ghana Immigration Service to educate young women about the dangers of embarking on illegal migration is yielding fruitful results.
Mr Alhassan remains optimistic that the legacies of Ambassador Jackson on anti-human trafficking and the collaboration with immigration authorities will help to stem the tide of human trafficking in and outside the country.
Humanity Magazine International campaigns against human trafficking to Europe and Middle East
Mr.Kwame Asuah-Comptroller General,GIS
In the wake of reports of abuse meted out to young Ghanaian who emigrate to the Middle East in search of jobs, Humanity Magazine International intensified a campaign to educate the public on the dangers of moving to that part of the world and Europe
The campaign of educating Ghanaian ladies and other young men who wish to travel outside Ghana, is in collaboration with the Ghana Immigration Service (GIS) to protect the young and ambitious ladies, who fall victims to promises of better life. Such promises are made by crafty travel agents.
The campaign by Humanity Magazine International and GIS has seen immigration officials at the airport and other points of exit thoroughly interrogating people intending to travel to the Middle East.
The strict interrogation by GIS officials are meant to expose persons who ignore warnings and advice to avoid travelling to seek greener pastures at the peril of their lives.
In the recent past, there had been several reports in the media of how Ghanaians have been abused and forced to work in inhuman conditions after they have been trafficked to the Middle East, particularly Gulf States.
Many of the young men and women were lured to part ways with huge sums of money after they have been promised mouthwatering salaries and other conditions of service.
Humanity Magazine International has been one of high profile media outlet that has embarked on a campaign to further expose the abuses Ghanaians face and also educate ladies who desire to travel, to be mindful of the dangers that await them.
At the kayayei Resettlement Center in Kumasi, care workers and researchers have played instrumental role in educating young women at the Kumasi Central Market about the dangers of being allowed to be trafficked out of the country.
In Accra, Humanity Magazine International and the Bridgewater Project have also organized events in several parts of the capital to create awareness among young people to stay away from the unscrupulous agents.
The Ghana Immigration Service offered support to the campaign and it therefore comes as no surprise that the public welcomed the education against relying on travel agents to emigrate to the Middle East and the deadly voyage through the Mediterranean sea to Europe.
The managing editor of Humanity Magazine International, Mr. Yahaya Alhassan, has vowed that the campaign to bring an end to illegal exiting of the country will continue until full results are achieved.
Dr. Daniel Appiah Of UG Honoured For Outstanding Teaching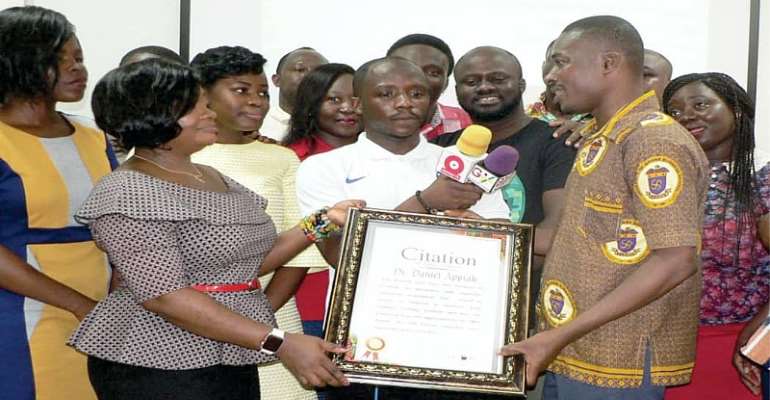 A public sector management specialist at the University of Ghana Business School (UGBS), Dr. Daniel Appiah, has called on political elites and governance experts to collaborate to innovate an inclusive system of government that would sustain the country's political stability and economic development.
Dr. Appiah said this during a ceremony to receive the Humanity Magazine International award for his outstanding teaching at the Department of Public Administration and Health Services Management.
According to Dr. Appiah, Ghana before 1957 had a public administration system that was more competent and impartial than the present era. "Ghana's economy also had a higher GDP per capita than South Korea, Indonesia, Bangladesh, and Brazil but these countries are now far richer than Ghana" he added.
He explained that "Ghana's political stability and economic achievements prior to independence were mainly due to the existence of an inclusive and competent system of governance where political appointees did not only possess a high level of tertiary education but they also had to write competitive examinations to merit their political appointments. Unlike South Korea, Ghanaian political elites replaced the inclusive and competent system with divisive winner-takes-all partisan politics."
He added that the increasing level of political party vigilantism across the country is a logical consequence of the politics of winner-takes-all. He cautioned civil society groups against their advocacy for the transformation of the non-partisan local government system at the district assembly level into another winner-takes-all system because it is likely to undermine Ghana's political stability.
Dr. Daniel Appiah, who teaches Comparative Public Administration, used the opportunity to appeal to political party elites to work together towards ending political vigilantism because it poses a serious threat to the businesses.
A certificate presented to Dr. Appiah reads in part: "This is in recognition for your outstanding teachings on effective public sector management and campaign against corruption. Your students profoundly appreciate your efforts".
Mr. Yahaya Alhassan, Chief Executive Officer (CEO) of Humanity Magazine International, called for a credible programme to curtail the winner-takes-all party politics. He called on public officials to be vanguards of the public good and not passive administrators.
Mr. Alhassan said that the University of Ghana Business School has a pool of scholars to help build the country and he commended Dr. Kwame Asamoah, Dr. Abdul Gafaru Abdullai, Professor Justice Bawole, Dr. Albert Ahenkan, Dr. Thomas Buabeng, Dr. Emmanuel Yakubu Seidu, and Dr. Aminu Karimu, all lecturers at the school, for playing vital roles in shaping the knowledge of students about public sector governance.
He disclosed that Humanity Magazine International aims at promoting quality leadership by recognizing the achievements of leaders in public and private institutions, to serve as shining examples for other managers or individuals to emulate.
"At Humanity Magazine International we also promote African businesses by encouraging such businesses to team up with their counterparts and academicians in other parts of the world to create innovative approaches to expand and create jobs for the youth" he added.
University of Ghana Don Honoured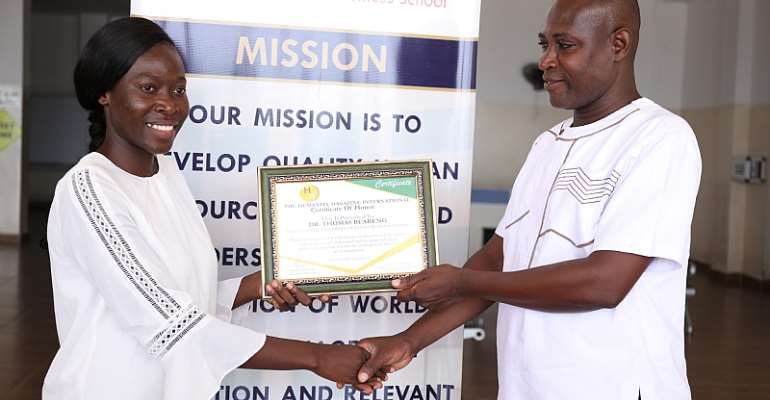 A senior lecturer at the University of Ghana Business School (UGBS), Dr. Thomas Buabeng, has been honored by Humanity Magazine International for his lectures on diversity that enable students to understand individual differences along the dimensions of race, nationality, ethnicity, gender, socio-economic status, age, physical disabilities, religious and political beliefs.
A certificate presented to the Dr. Buabeng reads in part that, "This is in recognition for your works on diversity to help students appreciate, accept, understand and recognize individual differences, an effort towards the eradication of all forms of discrimination, including your meaningful episode for the documentary campaign against vigilantism. Africa profoundly appreciates you".
The Chief Executive Officer (CEO) of Humanity Magazine International, Mr. Yahaya Alhassan, in presenting the award at a ceremony at UGBS graduate campus in Accra, said that University of Ghana is a vital state institution, which has experts needed to effectively and efficiently shape public policies in Ghana and called on policy makers to include these experts for good governance.
Mr. Alhassan described the lecturer as a campaigner for ensuring the citizenry, especially public servants follow rules, values and principles to set the standards of professional conduct in the discharge of duties and to offer constructive criticisms to the highest authority in government when they violate codes of conduct.
He called on Ghanaians not to discriminate against Nigerians by stressing, that ''Nigerians, have no doubt lived and contributed immensely towards the development of Ghana, the same can be said of the many Ghanaians living and working in Nigeria. I therefore call for soul searching between the citizens of the two African giants''.
Lecturer Calls For Multidisciplinary Approach To Solve Environmental Challenges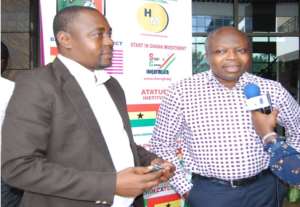 A senior lecturer at the University of Ghana Business School (UGBS), Dr. Albert Ahenkan, has said that a multi-disciplinary approach is what is required to solve this country's environmental problems.
According to him "the environment is our life support system and the foundation of human development. Poor environmental health and safety therefore, affect not only individuals, but also businesses, economy and national development as a whole".
He said this in Accra when he was being honoured by Humanity Magazine International with the environmental stewardship award for his works and lectures that promote sustainable environmental practices.
The award seeks to promote cleaner and greener environment aiming for sustainable development without degrading the environment.
Dr. Ahenkan added that "it takes a holistic, multidisciplinary approach to solve environmental and sustainability challenges. We must approach environmental problems from a multi-dimensional point of view".
He stated that environmental problems are complex and beyond the realm of any single discipline, government, institution, stakeholder or individual and he therefore called for a concerted effort to tackling environmental problems in Ghana. "Globally, clean and sustainable cities did not happen with the effort of only governments" he argued further.
Dr. Ahenkan, a senior lecturer at the Department of Public Administration and Health Services, emphasizing on the importance of the environment to human development said building sustainable and resilient cities in Ghana will require active engagement and support of all stakeholders: government, business community, the media, civil society organizations and the citizens.
The Chief Executive Officer of Humanity Magazine International, Mr. Yahaya Alhassan, in praising Dr, Ahenkan said "the award is in recognition of your campaign and lectures over the years on environmental impact assessment awareness, including works on sustainable cities, transport and waste management and advocacy for accident free energy sector.
Mr. Alhassan described the award as a performance enhancing honor to encourage individuals and managers of public and private institutions to do well for the community.
Dr. Ben Asante Scoops Humanity Award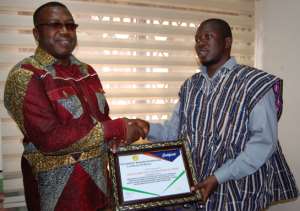 Mr Abdallah Musah (right) of the Humanity Magazine International presenting the award to Dr. Ben. KD Asante (left)
The Humanity Magazine International has honoured the Chief Executive Officer (CEO) of the Ghana National Gas Company, Dr. Ben KD Asante, with the environmental stewardship award.
Dr. Asante, who is a former lecturer at the Kwame Nkrumah University of Science and Technology's School of Engineering, has used his knowledge and experience in the oil and gas fields to encourage practical policies at the national and international levels for the protection of the environment.
The Humanity Magazine International aims at promoting quality leadership by recognizing the achievements of managers of public and private institutions, to serve as shining examples for other managers to emulate.
The Public Relations Officer (PRO) of the Magazine, Mr Nsoroma Osei Bonsu, in a citation praising Dr. Asante said "since your appointment you have made safety an important issue at the GNGC and implemented programs for the promotion of accident free gas environments, which deserve the commendation of all Ghanaians".
He added that the efforts of Dr Asante and his hardworking team at the GNGC have transformed the company into a trusted and economically viable state entity that deserves emulation by other state agencies.
"Your efforts and clarity in objectives have no doubt transformed the Ghana National Gas Company, and this has restored the confidence of Ghanaians in your work".
Nsoroma, popular for his eloquence and versatility in the various Akan languages called on Ghanaians via Atinka Radio to apply safety measures when using their gas cylinders and he also urged attendants at petrol and gas filling stations to be disciplined and comply with safety rules to avoid gas accidents.
Dr Asante thanked Humanity Magazine International for the honour done to him, saying that "we are all here for the good of Ghana and it is important for all of us to work for the good of our country".
The CEO of the Magazine, Mr Yahaya Alhassan noted that Dr. Asante's experience as a former lecturer and international oil and gas consultant has helped to curve a path for the company's development through modernization and digitization to enhance efficiency for the benefit of the country.